Pricing
Over 25,000 educators use Gradescope
Get Started for Free
Discover how easy it is to grade online with Gradescope Basic for Teams
The first 5 instructors at each institution get free access to Gradescope Basic for Teams forever.
All others get their first two terms free.
Create a free account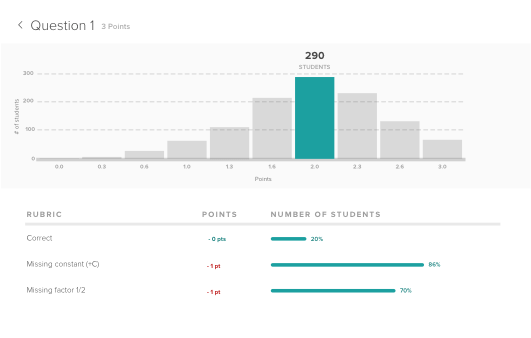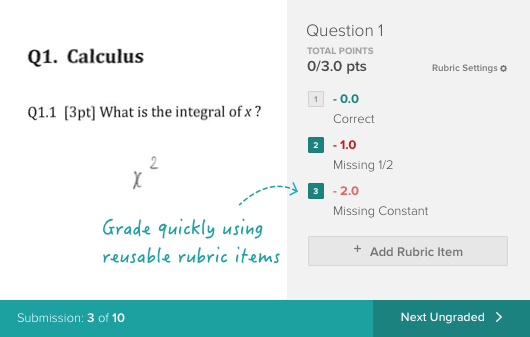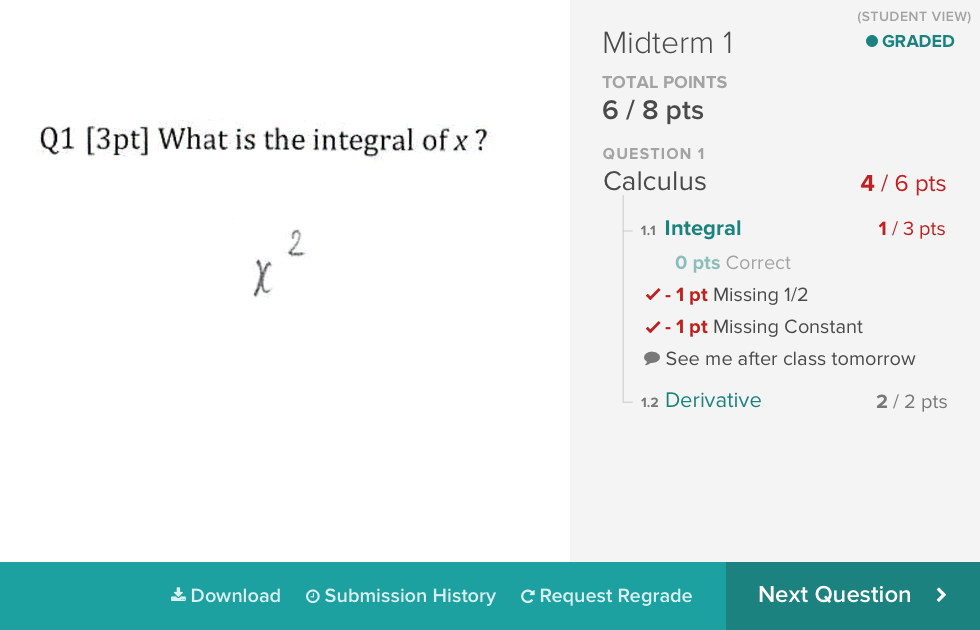 Upgrade
to Gradescope Complete
Create answer groups to grade even faster.
Cut grading by 70% or more with the help of AI.
Grade programming assignments with our autograder platform, grading rubrics, and inline comments
Solo
For solo instructors who want to ditch their red pens and grade faster online with the original version of Gradescope.
Team
For teaching teams seeking a faster, effective grading experience with the original version of Gradescope.
Solo
For individual instructors who want to grade faster and better understand what students learned.
Team
For teaching teams who want to streamline grading and increase consistency with shared rubrics.
Institution
For institutions needing LMS integration and advanced analytics.
Our goal is to reduce the cost of high quality education.
If you don't have access to funds, put us in touch with the appropriate decision maker at your institution. We'll advocate on your behalf and give you access in the meantime.

Basic
Complete

Solo

Team

Solo

Team

Institution

Custom Agreement

Contact Sales
Functionality

Collaborative Grading

-

-

Grade a single set of assignments in parallel with collaborators without risk of error or redundancy.

Unlimited Course Staff

-

-

Use Gradescope with your entire teaching team.

Assignment Statistics

Tag questions with learning objectives, and view class-level performance by objective.

Regrade Requests

Manage regrade requests quickly online.

Full Grade Export

Easily export grades and rubric item data in CSV format.

Late Submissions

Effortlessly track when students submit even after the deadline of an assignment.

AI-Powered Grading

-

-

Grade all similar answers at once in Gradescope-created groups.

Code Autograder Platform

-

-

Automatically and manually grade programming assignments

Text Annotations

-

-

Type comments directly on student submissions

Support

Basic Email Support

Dedicated Support

4 business hr response time

-

-

Integrations & Extras

LMS Integration

-

-

-

-

Caliper Student Analytics

-

-

-

-

Customer Service Agreement

-

-

-

-
Frequently Asked Questions
Is a credit card required to sign up for Gradescope?
What is your refund policy?
How can I try the Complete version of Gradescope?
How do I know if I'm one of the first five users to sign up from my school?
What do you mean by 'term' in the trial length?
A term is typically a semester or quarter and depends on your school's academic calendar. If you use a different calendar, your trial will last for one full academic year.
How can I use Gradescope if my institution is short on funds?
Sign up in seconds!
Gradescope works for both instructors and students.
Are you an instructor or a student?
How to upgrade a course
Please navigate to the course that you would like to upgrade and click on the upgrade button on the Course Dashboard.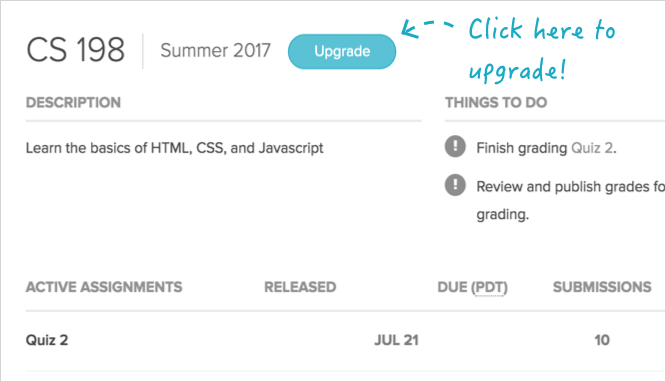 Connect us with your school
Let us know who the appropriate decision maker is at your institution, and we'll tell them all about Gradescope.
Get a Demo
Fill out the form below to request a demo.